http://www.designpackgallery.fr/designpackgallery-serie-limitee-revue-de-pr…
Thursday :
Quote:

Un emballage série limitée
Pourquoi ? Comment ?
par Fabrice Peltier auteur de l'ouvrage « Série Limitée, objet de Collection »

La pratique du packaging événementiel, édité en série limitée est devenue un moment fort dans la stratégie marketing des marques de produits de grande consommation. Pourquoi éditer un emballage en série limitée ? Comment s'y prendre ? Que faut-il en attendre ? Ce sont à toutes ces questions qu'un spécialiste du « collector » répondra...

Organisée et dirigée par Fabrice Peltier (Entrée gratuite sur inscription préalable et dans la limite des places disponibles).
Le jeudi 29 octobre 2009 de 18h à 20h.
Designpack gallery
24, rue de Richelieu
75001 Paris
Tél. : +33(0)1 44 85 86 00
Fax : +33(0)1 44 85 86 44
gallery@p-reference.fr
Métro Palais Royal (ligne 1-7)
Métro Pyramides (ligne 14)
Horaires d'ouverture :
du lundi au vendredi
de 10h à 19h
le samedi de 11h à 19h
what is the black cover on ABsolut bottle ?? and pink ???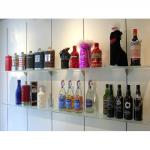 More pictures thursday

_________________
Insigma FEEDBACK
Positive >30
Negative 0