I just wanted to start this thread because this man deserves it. Whitout him we problably wouldn't have this forum and our collections as they are now, maybe in a other way, but not like this.Today he is 82 years old and still going strong: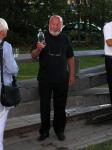 Post everything here, articles, pictures, feelings, thoughts etc.After meeting him and listen to his stories at the International Absolut Collectors meet in Åhus I fully respect him and he is extrodinary.Here's an article from the paper Kristianstadsbladet the day after the Collectors meet:
"Text: Marcus Haraldsson
Updated August 14, 2010 5:00 Published August 14, 2010 05:00:35 5.002010-08-14
[+] [-] Text Size | Post a comment |
Åhus.Ett different meeting took place in Åhus yesterday. Collectors all over the world of Absolut vodka products were then meet the man behind the Absolut bottle - Gunnar Broman.
- Very strange. They come here to see and touch me, "he said shortly before the call-up of the Absolute-collectors from USA, China, Germany and several other countries would enter the hotel ÅhusStrand.
Gunnar Broman is 82 years and retired 18 years ago, but possesses a vitality and intensity that he would be many years younger. He commutes between humility and pride in the fact that he portrayed the iconic bottle.
- It was a job I did for over 30 years ago. Four, five years later, I heard about this job every day. I was so tired of it then, but when I stopped working, it was the day I became famous for, and now I think it's great that people remember.
He does not think the job itself was particularly remarkable, but is more pleased to have created the brand Pripps Blue, who was also the advertising job that gave him and the Office Carlsson & Broman Absolutely job.
The inspiration for the Absolut bottle is a bottle of medicine that Gunnar Broman had bought in an antique shop in the old town of Stockholm and the design of the Absolut bottle was a "crime" when it came to 1979.
- We knew we were going into one of the strongest markets in the world. Spirits and cosmetics are products with low production costs, marketing costs, which dominates. Why is there such a competition. Then you can not go the usual route and make it everyone else is doing, but a bit better, but you may find something in violation of properly.
- Where was all spirit packs high, beautiful and full of luxury gadgets like stars, weapons, shields and stuff and had the prestigious names that sounded imperial, as Smirnoff. We broke with the total when we instead of a long high-bottle was a little chubby.
Gunnar Broman says that the second "offense" and he was the Agency did not have the label on the bottle.
- The bottle was like a gray hole in the shelf, which allowed many looked closer to what it was. Then they could see that we had in place an ad with the headline and body text on the bottle.
During the launch Gunnar Broman was criticized for that bottle was ugly.
- I have never received so much, of a product. It said it was the ugliest one had seen and with a total of incomprehensible concepts. It said that it looked like a drip bottle hanging above a hospital bed. We were on us and was supported by Lindmark, then Chairman of V & S Finland.
- Since we had already put a lot of money importers thought that we would get back at least something. That's when their sales started going out to bars and order an Absolut and tonic. What, did you not Absolut vodka? they said and left. A few days later someone called and wanted to buy. In this simple way, it took off.
According to Gunnar Broman is a vodka reklammakares dream.
- All features of the product may be introduced from outside. Compare with a car that already has a lot of features just to be presented. Vodka has no properties, in all cases all the vodka the same characteristics.
Pripps Blue. Absolut vodka. Alcohol products are all very well, but that Gunnar Broman has worked with most is milk. He co-formed low-fat milk product. He has delivered some lectures on marketing courses at Lund University in recent years, but has increasingly retreated to the sauna on a cold swimming pool Sibbarp, 100 meters from home in Limhamn.
But interest remains, among other things, he has followed the hajpade TV series "Mad Men".
- It is so good in hell. I was in the industry in the 60's and recognize it a bit and become silly rogue style, while occasionally flashed. The relationship between the sexes is also quite good.
- I only have a small handicap, I can not see the channels with commercials, so I have instead bought the TV series on DVD. "
Here's another interview from the web:
"Gunnar Broman - An old commercial advertisers
ronnestam village on August 19, 2009
Worked as a copywriter with more in just 40 years, from 1952 to 1992, the Gumaelius, Swedish newspaper Svenska Dagbladet, Ad Agency Svea (KF), Ted Bates and the last over 20 years in house of Carlsson & Broman.
Most famous work: ABSOLUT VODKA, idea, brand, packaging / design Lars Borje Carlsson, introductions in the U.S..
Best job (I think): Pripps Blue. Design: Hans Brindfors.
After about 20 years in the same form began Lars Borje and I will talk about doing something new. Probably continue together in some form. Fixed in new ways. Without it, without a lot of employees and current kunder.Vi but had little new types of jobs at once, together and each one individually. It was about finding things out, you could say. Then, like lightning from a clear sky for us an offer for the Agency. Satchi & Satchi by, then the world's largest advertising agency chain. After a few months, it was clear. But not with Satchi & Satchi, but with DDB Needham. So we were left to the Agency a few years ago and I was 64 and damn eager to stop working. So it ended and you could say that on the whole, been pretty good. Especially considering how it started.
For a little strange paths I ended up on the Defense high school, where I graduated from high school. One teacher thought that I should devote myself to any professional who had to leave to do and by another coincidence I ended up as a copywriter at a small office in Stockholm. I was also able to start volunteering as a journalist at Sala Allehanda. I just felt that much better. But there was a salary only 375 bucks a month and in the Sala 500 in Stenberg & Wagner in Stockholm. It was my career choice.
Education: zero.
Tagged as: Gunnar Broman, communications, fox, advertising, Sr., trademarks "
_________________
////////////////////////////
My Absolut collection
////////////////////////////