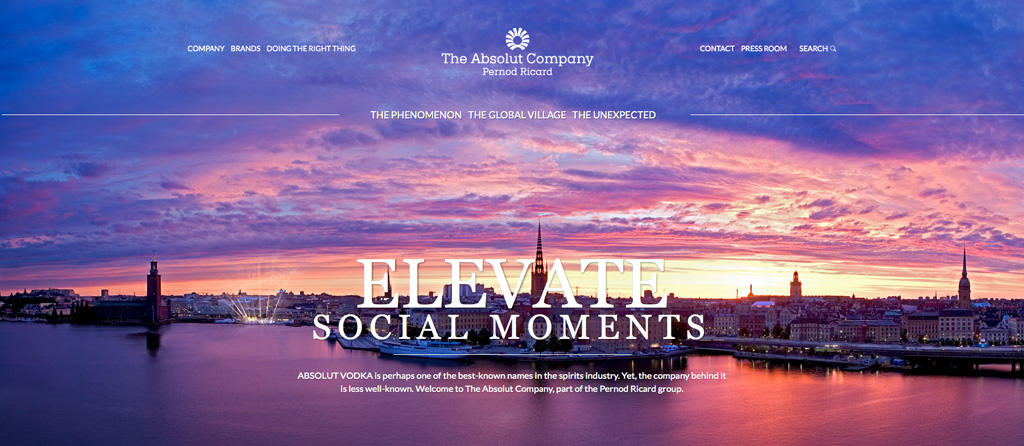 August 13 2012
The Absolut Company has previously used its owner Pernod Ricard's communication channels, while the brands have had their own websites. Now the company has chosen to create its own platform. This week, The Absolut Company is launching its own website,
www.theabsolutcompany.com
. The purpose of the new website is to increase accessibility and further raise the profile of The Absolut Company.
In creating a whole new website for itself, The Absolut Company is aiming to make things easier for consumers, partners and employees to find information about and inspiration from the strong, familiar brands that go beyond ABSOLUT VODKA to include Malibu, Kahlúa, Wyborowa, Luksusowa and Frïs. Ever since Pernod Ricard acquired Vin & Sprit in 2008, The Absolut Company has had global responsibility for the production and strategic marketing for these big names.
The new website will bring visitors closer to a multifaceted company with 680 employees operating in 150 markets all over the world. The website will also have a press room providing images and news.
"We have identified an increasing need to communicate from our own platform. It is incredibly important for us to convey a clearer image of our work and have our own communications hub. We want the website to reflect our values of transparency, creativity and quality, as well as being an inspiration to visitors," explains Björn von Matérn, VP Corporate Communications at The Absolut Company.
The new website relates the history of ABSOLUT VODKA and takes visitors behind the scenes of the distillery in Åhus to see how the Swedish vodka is made. The site is also packed with exciting facts, such as how many people initially questioned the wisdom of trying to sell Swedish vodka abroad. Today, The Absolut Company produces 500,000 bottles a day from the Åhus distillery in southern Sweden.
The Absolut Company's new website
www.theabsolutcompany.com
was put together by the digital concept and design agency Söderhavet. The project manager was Maria Sehlström, Corporate Communications Coordinator at The Absolut Company. "I'm very pleased with the way this collaboration has worked out," says Maria Sehlström. "Söderhavet combine professionalism and creativity, ensuring that no detail is left to chance."
_________________