ABSOLUT VODKA INTRODUCES ABSOLUT BLANK 2013 
A LIMITED EDITION DESIGNED BY LEGENDARY STREET-SLASH-FINE ARTIST DAVE KINSEY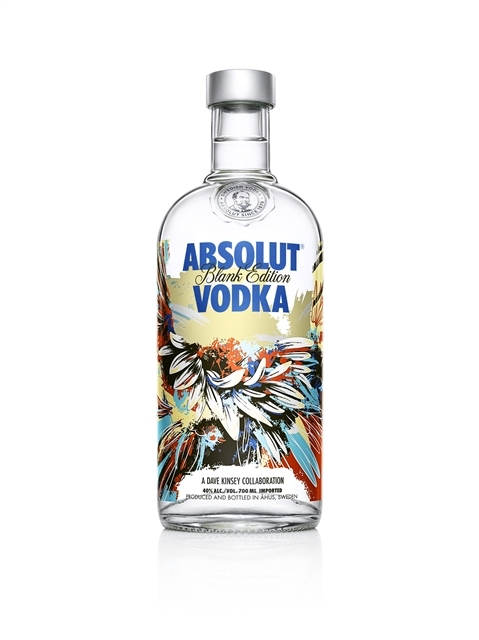 In 2011, The Absolut Company launched a global creative movement featuring top artists from around the world known as ABSOLUT BLANK. Today it announces the launch of a new limited edition designed by one of the key artists featured in ABSOLUT BLANK, Dave Kinsey. The flower-inspired ABSOLUT VODKA BLANK EDITION by Dave Kinsey will be available in seven markets in March 2013.
"When ABSOLUT and I collaborated the first time around on ABSOLUT BLANK, what I loved was the project's audacity and optimism – that twenty artists, together with ABSOLUT, might inspire a global creative movement," says Dave Kinsey. "So when they asked me to create a bottle design for ABSOLUT VODKA BLANK EDITION, I was eager to do it. Lately I've been exploring the boundary between the emotional and the environmental, and this flower-inspired bottle reflects that."
"Dave Kinsey is a true living legend in the world of street art and design – and was a key figure in ABSOLUT BLANK from the beginning," says Nodjame Fouad, Global Marketing Director at The Absolut Company. "We love his contemporary approach to traditional subjects. His great sophistication and urban edge is just right for ABSOLUT, and perfect for ABSOLUT VODKA BLANK EDITION."
ABSOLUT VODKA BLANK EDITION by Dave Kinsey features an explosion of bright colors and darker-hued washes that reveal Kinsey's roots as a street artist while highlighting his extraordinary fine art skill. It depicts something natural, a flower with the vibrancy and energy of the city.
"I recently moved to the Sierra Nevada mountains from Los Angeles. Nature hits you differently up here. I'm interested in the way the city imagination interacts with nature. There's a struggle between the urban and natural worlds, and it's unknown how it will play out. Exploring that interaction made sense in the context of ABSOLUT BLANK.
"Everything Kinsey does is bold, vibrant and filled with creative energy. That's the spirit of ABSOLUT VODKA BLANK EDITION -- and of the entire ABSOLUT brand," says Nodjame Fouad. "The striking ABSOLUT VODKA BLANK EDITION by Dave Kinsey will really stand out on the shelf. We're thrilled with the collaboration."
ABSOLUT BLANK gave 20 artists an ABSOLUT blank bottle-shaped canvas, and asked them to fill it in with creativity. Dave Kinsey was one of the featured artists, and his work has been showcased in print, outdoor advertising and TV.