Question about the cap.
Why do some bottles have the same cap as the GREENSAVER and the Brazilien bottles?

I had a BLING-BLING 700ML from Poland and the bottle inside hade the GREENSAVER cap.
In my bok "ABSOLUT STORY From Vikings to Vodka" from 2002 is it a picture on a common ABSOLUT VODKA bottle
and the bottle has the big GREENSAVER cap.
Even the BRITTO 700ML has the big GREENSAVER cap.
http://cgi.ebay.de/4x-Wodka-ABSOLUT-BLUE-BLAU-40-Vodka-KISTE-0-7-L-700ml_W0…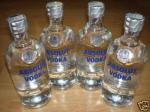 So when do they use the big cap?
Does every bottle in Brazil, Greece and Poland has the big cap?



Last edited by ABSOLUT on Sun 25 Oct - 00:17 (2009); edited 1 time in total