Hello everybody, i have been in contact with a lot of sellers and traders in this forum so far but i never really took the chance to properly introduce myself. 
Well its kinda strange that i do that right now, the moment that i decided to stop collecting. 
I started collecting over 12 years ago when i was on vacation and bought an absolut citron bottle. That was the first time i realized there are different absolut flavours.
Well i was fascinated by all the different bottles ( only the original flavours so far, no special editions) and started to collect them. 
Luckily i started early enough so i was able to buy a lot of the bottles like the german chrome bottles in the supermarket. 
If i would have known how rare they would become i probably would have bought way more. But i guess all of you know that feeling.
Over the years i collected more and more bottles, also some rare ones, and through ebay and with the help of this forum i was able to come up with a quite large collection of about 90 bottles and skins/cases including some quite rare ones.
For half a year i know that i am able to move and probably wont be able to take my collection with me and i thought a lot about continuing collecting. Although it was a hard decision i decided to not keep collecting. 
anyway i wanted to take the chance and say Hi to everybody and also thank everybody for beeing such a great community. I really enjoyed collecting together with you guys. Nice to see that we shared the same passion.
Here is an image of my collection until last week :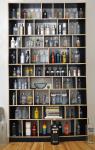 my collection is now on sale and some more bottles will follow tomorrow:
http://www.ebay.de/sch/cede_de/m.html?item=281520269592&ssPageName=STRK%3AMESELX%3AIT&rt=nc&_trksid=p2047675.l2562
All the best and thanks a lot! Cede