J-E-S-P-E-R wrote:


Impressive with the self-made wooden crates, but wouldn't it be easier just to purchase packaging designed for the shipment of bottles?



I've received many packages that arrived like this (well, maybe not quite like that), but never any issues with broken stuff 



Yes, Jesper, it would be better. But I don't know anywhere in Brazil where we can get those packaging. And I have searched a lot.
What we have here is a standard size styrofoam designed to cover our beer bootles, and they can't fit Absolut bottles. Here's a picture of one of them with some adaptation to fit a Red Label.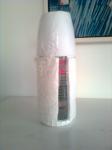 As you can see, the 750ml Absolut Bottle is still felling a little claustrophobic in there, even after I cut it open to fit it in.
Here's a picture of the packaging in it's original intent (not really for transportation, but to keep it cold while serving at the bar).
_________________