Absolut Red label 100 proof has been discontinued for quite some time now. It was replaced by the Black bottle 100 proof.
I think that these bottles are very underated and will be considered collectible in years to come.
I think that this is only one of a very few products that Absolut has discontinued and I think this will add to its collectibility.
I now have these bottles in 3 sizes. And up until today , I never even knew that Absolut produced this in the 375ml size.
I think that this maybe a rare bottle. I'll let the forum tell me what they think.
This is the red Label in 3 sizes..... 375ml 750ml and 1 liter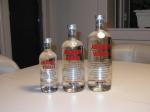 Last edited by tonycor on Wed 22 Oct - 06:21 (2008); edited 1 time in total
_________________
WORLDS LARGEST ABSOLUT TRADING LIST & MORE THAN 600 +++ PERFECT POSITIVE FORUM FEEDBACKS.
TRADE WITH CONFIDENCE.